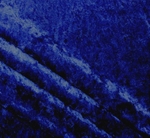 58/60" wide Royal Blue "Panne" & 100% Polyester. Extremely Stretchy, feels Silky & looks Shiny and it doesn't pill or lose its luster.

Crushed Velvet, also called Panne Velour, is luxurious for the inside of diapers. Like microfleece & Suedecloth, Crushed Velvet wicks moisture away from baby for a more comfortable diaper experience. Crushed Velvet also retains it beautiful look, wash after wash, similar to Suedecloth AND, unlike microfleece it never pills. It has been described as "lingerie for babies" because it looks so luxurious & fancy inside the cloth diaper.

Care Instructions: Crushed Velvet/Panne Velour does not shrink so pre-washing is not necessary. Items made with Crushed Velvet/Panne Velour may be washed and dried on hot. Rash creams may cause staining, so if you care about that sort of thing use a microfleece liner when using rash creams.

Crushed Velvet/Panne Velour is very stretchy & may take some practice, but the beautiful results are sooo worth it!