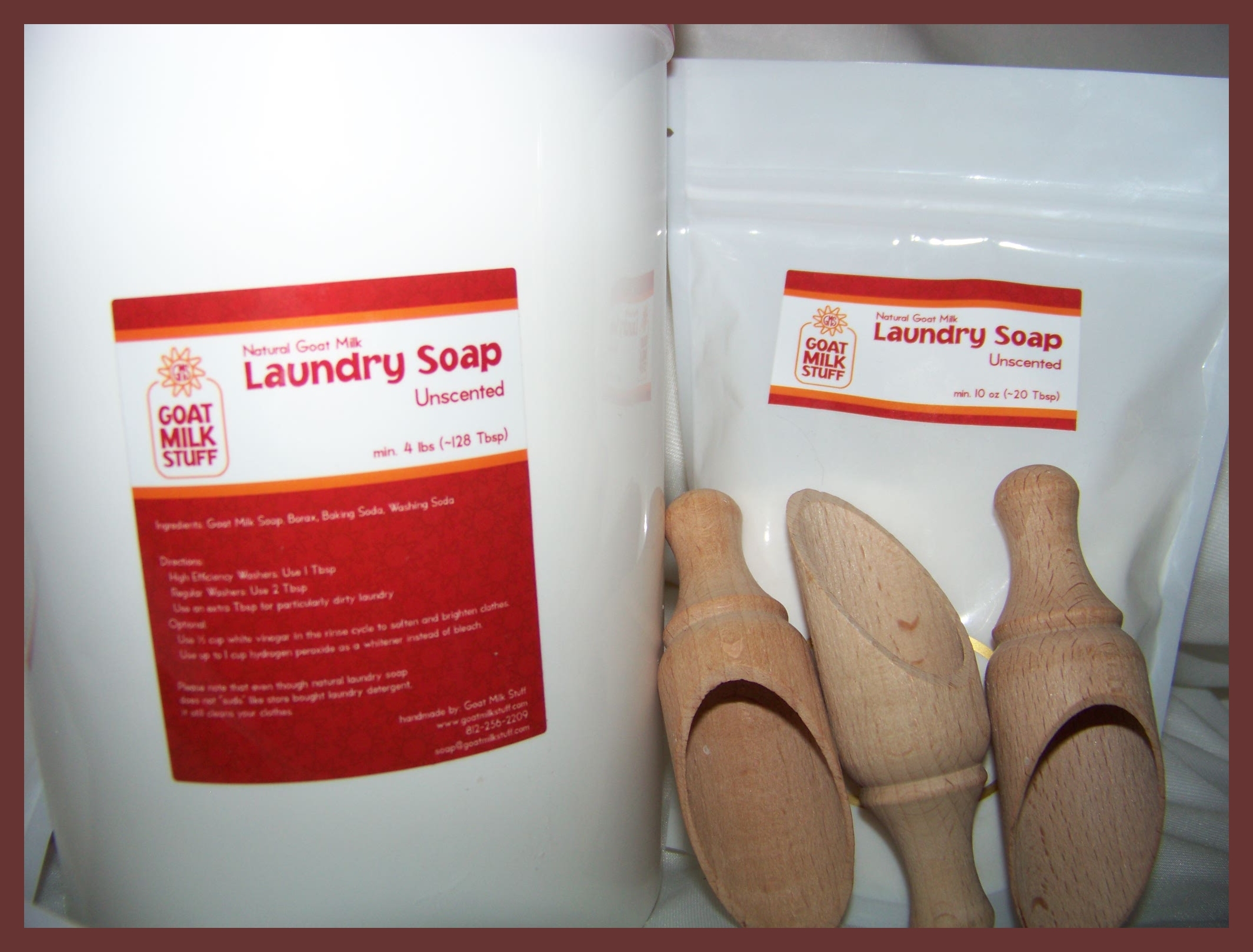 The Jonas's use real goat milk soap to make our laundry soap. This is a wonderful alternative to store bought laundry detergents that can be irritating to the skin and bad for the environment. We have many customers using this soap on cloth diapers with great results (the vinegar rinse is important if you're washing cloth diapers). Please note that our laundry soap will not "suds" like store-bought laundry detergent. It will still get your clothes clean, and is better for your washing machines (particularly high efficiency machines).
Directions (included on your laundry soap):
High Efficiency/Front load Washers: Use 1 Tbsp
Regular Washers: Use 2 Tbsp
Use an extra Tbsp for particularly dirty laundry

Optional
Use 1/2 cup white vinegar in the rinse cycle to soften and brighten clothes.
Use up to 1 cup hydrogen peroxide as a whitener instead of bleach.
The small laundry soap is ~20 Tbsp which is about 10 regular loads
Notes on septic systems:
Septic experts generally tell people to avoid using powdered laundry soap for two reasons:
1. too much is often used and does not dissolve properly
2. many 'bargain' powders have large amounts of non-biodegradable fillers such as clay which will clog the pores in the soil in your drain field.
Now the good news... your GMS laundry soap requires a small amount of powder per load, so it easily dissolves completely even in high efficiency washers that use far less water. Also, there are NO added fillers that lead to premature septic failure. So you can continue to use and recommend the GMS laundry soap that you've come to love with confidence!
| | |
| --- | --- |
| Ingredients | Goat milk soap; Borax; Washing soda; Baking soda. |