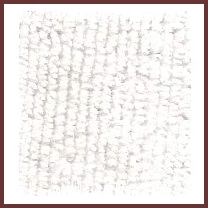 White Microfiber Diaper Fabric - 60/62" wide, 360 gsm This is the thickest microfiber fabric that I have found! My machine can only handle 2 layers, while it can handle 3 layers of the blue. It is the most absorbent fabric that we currently carry!
Microfiber is usually 75% polyester 25% polyamide, and is a great diaper fabric for soakers and inners. It traps moisture between its fibers and can absorb up to 8 times its weight in liquid! Light and thin, microfiber dries quickly and makes a very trim soaker.
Microfiber is also called Micro Terry because it resembles the terry cloth used for bath towels.
Microfiber fabric is so soft to the touch & stays that way, even after line-drying!
I like to combine microfiber & Hemp for the ultimate in absorbency.