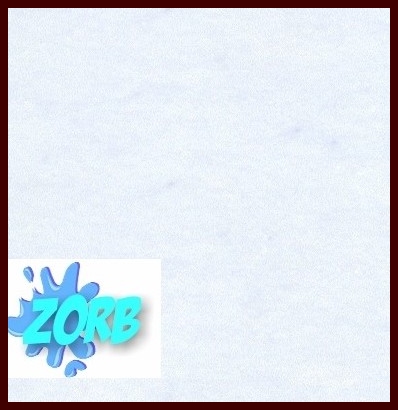 If you want TRIM diapers for your baby then baby this is it! 45 " wide
Zorb™ is a specialty fabric designed to reduce cost and improve performance of reusable cloth diapers. ZORB diaper fabric absorbs 10x it's weight in moisture in half a second -- that's 20x faster than cotton, bamboo or hemp knits.
Do NOT pre-wash Zorb. Zorb must be "sandwiched" between other fabrics. For example, 1 layer hemp french terry, 1-2 layers
I can't believe how easy this stuff is to use! I love to combine it with natural fabrics like our organic hemp or organic bamboo diaper fabrics. It has a soft, flexible surface, cuts easily with scissors or rotary cutters. Lays flat after cutting and does NOT fray or curl. You could just cut out your insert shape and sew 2-3 layers down the center for a great soaker, no edges to finish and minimal sewing. Because it is so thin Zorb sanitizes easily and dries quickly, making it ideal for AOIs. Zorb is usually sewn in as a middle layer in soakers, diapers and all types of absorbent pads. Sandwiching it between layers of hemp, bamboo or microfiber fabrics will give the best results. It is non-toxic and non-allergenic made of bamboo/cotton/viscose and poly micro fibers. NAFTA compliant. Manufactured in USA and Canada.
Zorb diaper fabric is made with a combination of wicking fibers and highly absorbent fibers which reduce compression wicking. Under normal use Zorb will retain 3 times the moisture of microfiber terry.
Zorb fabric is designed to be used inside a diaper or soaker. Each layer will replace 2-3 layers of conventional knit material (cotton, bamboo or hemp fleece/french terry).
If you need a smaller size you can order Zorb by the inch by clicking here.
zorb, plus one layer microfiber would make a super trip, super soaking diaper insert. There a a zillion possible combinations to try. One of the "sandwiching" layers could be stay-dry microfleece or suedecloth. There is also super soft bamboo flannel, or bamboo/hemp jersey. Bamboo double terry or velour feel wonderful next to baby's skin. It can be used a hidden layer or layers in a fitted diaper. And so on..., I mean SEW on...LOL