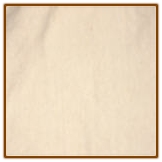 Organic Hemp Jersey
Hemp Jersey is popular for all body layers in fitted diapers & prefolds, or for use in soaker pads and doublers. Use 6 - 8 layers in a Soaker/Insert/or AIO inner & 3 - 4 layers for a doubler. Hemp Jersey also works great as a soaker combined with thicker fabric such as Microfiber, Hemp Fleece or French Terry.
Hemp Jersey is 55% Hemp / 45% Cotton and is 220 GSM. The fabric is tubular measuring 28" wide. (When you cut open the tube the fabric is ~ 56" wide).
Hemp Jersey is a thin, lightweight, knit, smooth fabric that is like t-shirt material. In addition to diapers is great for clothing & cloth napkins, just to name a few things.
I can get 3 - 4 medium size 8-layer inserts from 1 yard.
Care Instructions: Hemp will shrink up to 15% (that's up to 5 inches from a yard). The edges will also curl so it's best to wash before cutting. Wash & and dry on hot using the same detergent you will when your item is sewn. Avoid fabric softeners and bleach. It gets softer the more it is worn and washed.
note: Natural fabrics tend to have uneven coloring and texture, this adds to their uniqueness ;)