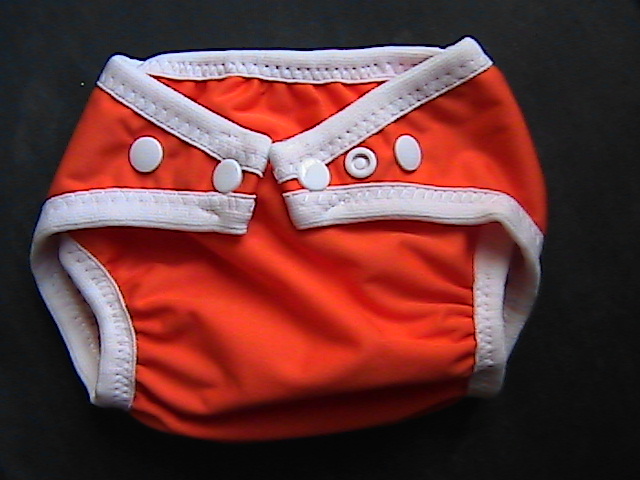 Orange Pocket Diaper Size Small
Red Waterproof PUL outside with White Suedecloth stay-dry lining inside. Edged in white FOE.
Small fits 8 - 18 lbs
Choice of inserts AND you can get an extra insert at a discounted price to use with your other diapers or for night-time doubling. Check out our Accessories page for even more options & great values.
Why don't we include an insert for free? When I was first starting out CDing the free inserts were often not what I needed or I already had inserts that I was given or I made myself. I do not want you to end up with inserts that you do not need so here you get to choose exactly what you need! Not including an insert that you may not even want also allows me to keep these great fitting Cloth Diapers more affordable.
Pocket Diaper Features:
This style of small size cloth diaper has 10 snaps across the front, plus a cross-over snap on the right-hand wing, allowing for 4 size adjustments.

Hidden Snaps Offer the Ultimate in Comfort.

Under-Tummy Fit - No Drooping.

Gently Elasticized at tummy to prevent gapping.

Stay-Dry Inner Fabric.

Innovative pocket opening makes stuffing easy, even for this tiny size.

Inserts do not need to be unstuffed, they will be released in the wash.

Snaps

are angled in a way that allows the diaper to grow with your baby by making it shorter at the smaller settings & longer on the larger settings.

A wide overlap of sizes allow for a longer fit, saving you money. Many babies never outgrow their mediums.

Did you know that you can resell your used dipes on ebay or Diaper Swappers?

I will buy back your EUC used Kids in the Garden AIO cloth diapers!

BONUS: you can add an extra insert for use at nap-time or bed-time (or for your other cloth diapers) at a discounted price.