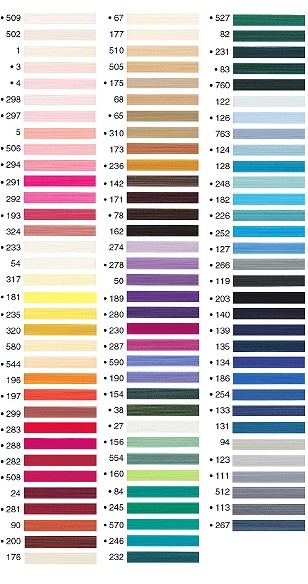 YLI Woolly Nylon
Giant 7650 meter / 8500 yd spools are equivalent to 7.65 spools of the 1000 m Wooly Nylon Cones. If you do a lot of sewing these "Monster" cones of Wooly Nylon Serger thread will save you both time & money.
If you look at the color chart those listed with a check mark are available in this size. 100% Nylon - won't cause wicking to the outside layer of cloth diapers. There is no serger thread like Woolly Nylon - a heat set thread of incredible strength, stretch and memory. Wooly Nylon is soft enough to snuggle next to baby, and full enough in its relaxed position to provide ideal coverage for seam and rolled edges. Woolly Nylon gives you elasticity and ravel-free finishing that's impossible with other threads.
7650 meter / 8500 yd spools
Use Woolly Nylon for both upper and lower loopers of your serger. It's perfect for cloth diapers, rolled hems and edges, ruffles, swim wear, aerobic wear, kid's clothes, knits and lingerie.
To thread Wooly Nylon Thread into loopers, first tie a short length of regular thread to the end of your wooly nylon. Thread the regular thread into the eye of the looper, then pull through.
Select "other" for the color then, enter the color AND number in the text box. It may take 1-2 weeks to ship special orders.