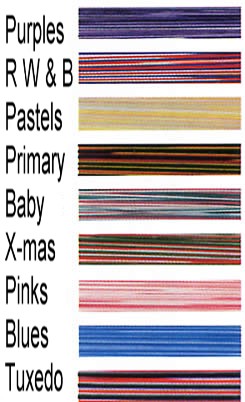 YLI Woolly Nylon
100% Nylon - won't cause wicking to the outside layer of cloth diapers. There is no serger thread like Woolly Nylon - a heat set thread of incredible strength, stretch and memory. Wooly Nylon is soft enough to snuggle next to baby, and full enough in its relaxed position to provide ideal coverage for seam and rolled edges. Woolly Nylon gives you elasticity and ravel-free finishing that's impossible with other threads.
1000 meter / 1090 yd spools
Vareigated Wooly Nylon Thread can add a great touch of interest to your cloth diaper & other sewing projects.
Purple: A fun color way featuring shades ranging from purple to lavender to white.
R, W & B: Fun colors - red, white & blue, great for boy colors & to dress up a plain white diaper.
Pastel: A soft palette of baby shades including baby yellow, baby pink, baby blue, and baby green.
Primary: A rainbow of bright primary colors including red, yellow, green & blue.
Pink: Pretty shades of pink ranging from bright pink to white.
Blue: Calming shades ranging from Saturn Blue to white.
Tuxedo: Black, Greys, Red & White. This is one of my favorites.
Use Woolly Nylon for both upper and lower loopers of your serger. It's perfect for cloth diapers, rolled hems and edges, ruffles, swim wear, aerobic wear, kid's clothes, knits and lingerie.
To thread Wooly Nylon Thread into loopers, first tie a short length of regular thread to the end of your wooly nylon. Thread the regular thread into the eye of the looper, then pull through.